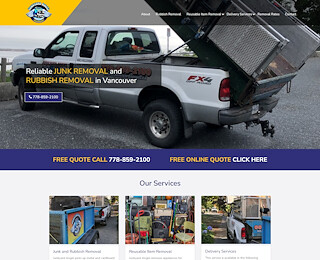 Furniture disposal in Vancouver is as easy as picking up the phone and calling Junkyard Angel. We offer several different options for disposing of your used furniture. You will find a schedule of our prices on our website or give us a call and get a quote today.
What do we do with the furniture we remove?
Our goal is to make sure your furniture is either disposed of properly in an ecologically friendly way, or when it's possible, we find a new home for your furniture.  This, by the way, means it doesn't end up in a landfill.  Examples of furniture include couches, tables, chairs, and old mattresses. There are several organizations that clean-up and repair furniture. There are several thrift stores run by non-profit organizations that sell used items for their charitable cause.
If it is not possible to find a new home for your furniture, some places will break them down and recycle the scrap. It is essential to recycle everything we can, so our landfills do not become overfilled with garbage and toxic waste. It is always best to have your rubbish picked up and disposed of in an environmentally friendly way.
We must recycle as many items as possible and keep toxic poisons out of our landfills. Toxins from landfills seep into our groundwater supplies and pollutes our eco-systems. The people of Vancouver are concerned about our environment and are hoping to increase the recycling rate to 80%.
What else can we haul away?
You might be looking for furniture disposal in Vancouver, but we also pick up and haul away an assortment of other household items. We can remove your old working or non-working appliances and find them new homes or recycle them. We use an F-250 truck with a dump box. Our dump bed has sides and holds about five cubic yards. Examples of common appliances we pick up are washers, dryers, refrigerators, freezers, and ranges.
We don't just specialize in removing old furniture and appliances; we also remove garbage. We will work with you to schedule a time that is convenient for you. We also will pick up during the evening hours if necessary.
What else do we do?
If you need something delivered or you need a residential move, we can do that. We charge $75 an hour (at present), and this fee includes two men. You can feel confident our people will respect and take proper care of all your household items.
We will also bring soil, sand or gravel to you and our vehicle can carry up to 2000 pounds. At present, the delivery fee is $75 to $100. The price of the soil, sand, or gravel varies, so call for a free quote.
We will also tear down small structures and remove them. Examples include swings, fences, and small sheds. We are happy to give you a free quote.
We do far more than furniture disposal in Vancouver. Our concern for the environment and our commitment to recycling sets up apart from other rubbish/garbage companies. Give us a call and let us do the heavy lifting.